With the release of American Gospel on Netflix, a documentary that explains the Biblical gospel, we could be lulled into believing that big tech is not out to get Christians. However, there always seems to be one step forward and two steps back in the chess game of Christian censorship.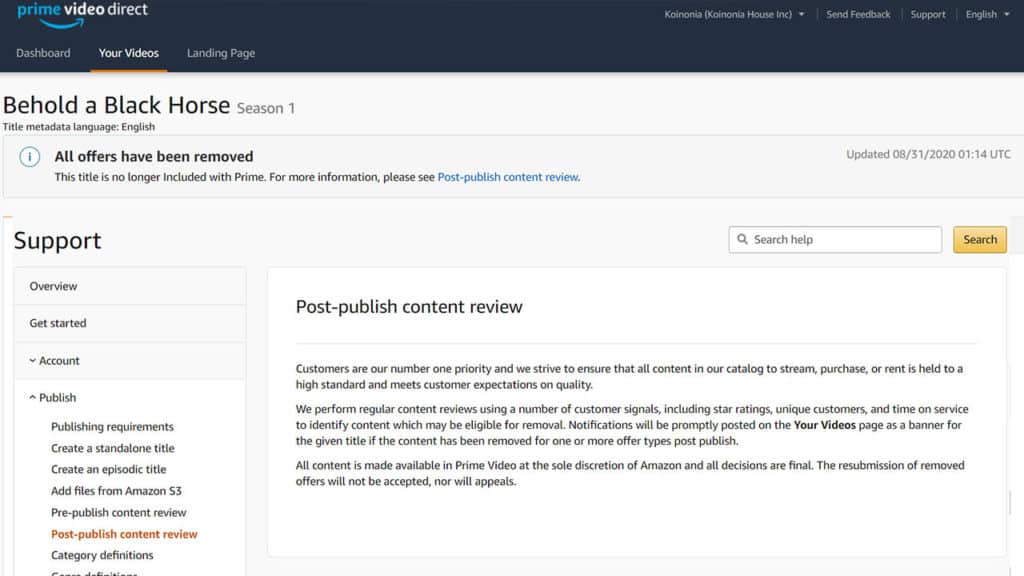 Koinonia House reported on their Facebook page that Amazon Prime Video removed their series titled "Behold A Black Horse" without an explanation. This video series contains a commentary by the late Chuck Missler on Revelation 6 with a focus on the opening of the third seal; The Black Horse.
Fortunately, this video series can still be viewed on YouTube.
This is not the first time Amazon has gone after Christian content. The pro-life documentary "Babies Are Still Murdered Here" was recently taken down too. (Source)
This all makes for a bazaar choice in content suppression when Amazon seems to be perfectly content with documentaries like "Are All Men Pedophiles?" which seeks to de-stigmatise paedophilia.
Attempts to create Christian alternatives to Netflix and Amazon Prime Video have manifested in the rise of streaming sites such as PureFlix and Minno, with even Mormons getting on board with VidAngel.
I seriously doubt this will be the last time we hear of anti-Christian sentiments coming from big streaming sites.